For the second time in a row, Litwiniuk & Company has made Canadian Lawyer's list of the Top 10 Personal Injury Boutique Firms in Canada. The Alberta firm, which focuses exclusively on helping personal injury accident victims, first appeared on the list in 2015-2016. Since that time, Litwiniuk & Company has opened a second location and made
talented additions to its team
including retired Court of Queen's Bench Justice
Mr. Virgil Moshansky
.
Managing Partner Todd Litwiniuk attributes the firm's success to the Litwiniuk team. "We know that we wouldn't be in the Top 10 without our incredible team. The hard-working people at our firm make this award possible. Not only are they providing high quality legal services, they are providing incredible client service every day."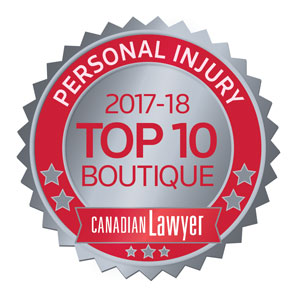 His brother
Fred
, Director of Business Development and Marketing for the firm, echoes his sentiments. "You build an exceptional firm one exceptional individual at a time," he says, "and that's what we set out to do. I think we've got the best people in the industry on our team, and I think that clients can feel that difference. Our team is the reason we are the only Alberta firm on this list." Todd and Fred lead this venerable Calgary-based firm, established in 1976 by their parents Larry and Marianne. From humble beginnings, the brothers have grown Litwiniuk & Company to be Alberta's largest and best-known personal injury firm, with thirteen lawyers and two locations to serve clients across Alberta and Canada. Though the firm embraces leading-edge technology, it still adheres to these simple, founding principles: client care, service, trust, and hard work. Litwiniuk & Company puts the personal in personal injury lawyers; community initiatives, charity work, volunteerism, and team culture are as important as doing excellent legal work. "Receiving this award is a great honour for us," says Fred. "We want to say thank you to our team, and to Canadian Lawyer and its readers for choosing Litwiniuk & Company again. Ultimately, though, our clients decide if we deserve it or not, and we intend to do everything we can to live up to their expectations."
If you have a legal matter, get the free legal answers
you need from our experienced lawyers.